Description
The Nova Plus is a vertically opening modular double bed unit and a stylish wall bed solution for people who do not want their bed occupying space during daytime. It is also accompanied by a 2 seater sofa which the bed can lower over when required for use.
One of the most frustrating issues faced by those who live in studio, student, one bedroom properties or small rooms is the space that is occupied by bed. As space is already limited, the addition of a standard bed makes it almost impossible to walk around. When you start adding extra furniture such as wardrobes and shelves, space is limited even further. The Diva Double provides you the free space and the comfort you need with a compact foldable double wall bed.
With a foldable double bed you can have the same comfort of a double 140 x 190cm bed for sleeping in the night and enjoy an additional free space in the daytime by transforming your bed to a sofa.
The mattress base is supported by an aluminium frame and slats for extra comfort and increasing the durability.
The bed can also be left made up using the bedding strap provided, so unlike a sofa bed you will not need to make the bed up after each sleep.
All Multimo products are designed for daily use and can be used as both a primary or guest bed.
We can recommend our popular Waterlattex & Orthosoft mattresses in a discounted bundle when purchased with the bed.
We are able to offer a variety of sofa colour options. Please contact us to find out more.
Modular Design to Fit Your Needs
We appreciate space can be very limited in some rooms and the full set does not have to be purchased. You can make different Multimo sets with modules including wardrobe and bookcase as shown in photos.
Comfortable, Breathable Slatted Sleeping Surface
The mattress base is supported by aluminium frame and slats for extra comfort and increasing the durability.
Long Life
The folding bed mechanism, also designed and produced by Multimo, has a minimum 10 years of lifetime and this period may extend much longer depending on a careful usage. 25 years old Multimo products are still working and being used in homes and offices safely.
Dimensions:
Diva Nova Plus has 178cm width, 228cm height, 46cm bed-closed depth and 210cm bed-open depth
Mattress sizes: Width 140cm , Length 190cm, Height 18cm.
Modular Units
Technical Specifications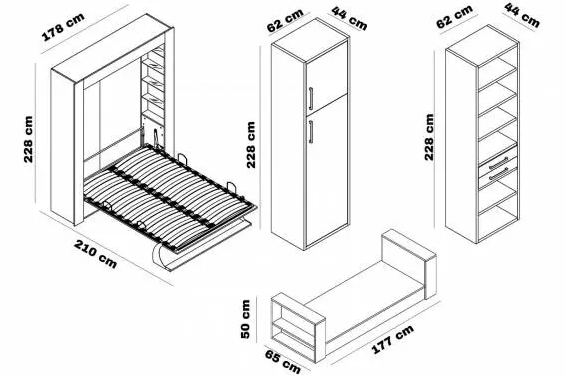 We can offer various colour options for the sofa cushions, please contact us for more information on this.
Delivery Lead Time
A majority of complete systems now in stock. Mainland UK delivery times - please allow up to 4-6 weeks. Fast UK delivery may be arranged dependent on location - contact us for more details. Whilst complete wall bed furniture systems may be in stock and available, some are manufactured to order so please allow up to 12 weeks for delivery.. Please bear in mind that there is a pandemic and regional lockdowns, quarantine and supply chain issues beyond our control may impact lead times, but we continue to do our best to accommodate requirements. If your order is urgent or you have any questions regarding lead times please contact us.