Description
Offering 2 different functions in a single area, FROGG provides maximum space saving in tight spaces at any time of the day!
Unlike similar products, the 4-person table included in the bed module is fully folded and does not occupy any space.
The table can be used as both a work surface or for dining.
The mattress base is supported by an aluminium frame and slats for extra comfort and increasing the durability.
The bed can also be left made up using the bedding strap provided, so unlike a sofa bed you will not need to make the bed up after each sleep.
The Frogg Table Double Wall Bed allows you to reclaim your valuable floor space when the bed is not use. You will also be happy to host your over-night guests with this comfortable and compact double bed, which does not occupy a separate room or space in your home.
All Multimo products are designed for daily use and can be used as both a primary or guest bed.
We can recommend our popular Freshtec & Orthosoft mattresses in a discounted bundle when purchased with the bed.
Side storage unit sold separately, please contact us for further details.
Safety Notice
This product requires wall mounting, please read the assembly guide thoroughly before attempting installation
Product Configurator
You can easily experiment and create smart bedroom designs with the "Multimo Product Configurator". You can run it on your PC, tablet or smartphone.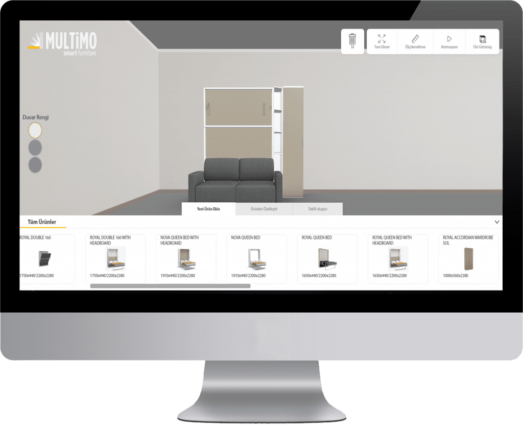 Dimensions:
Frogg Table Wall Bed is 152cm width, 208cm height, 44 cm bed-closed depth and 210cm bed-open depth.
Desk dimensions is 87cm width, 74cm height, 44cm closed depth and 97cm open depth.
Mattress sizes: Width 140cm , Length 190cm, Height 18cm.