Beds That Fold Up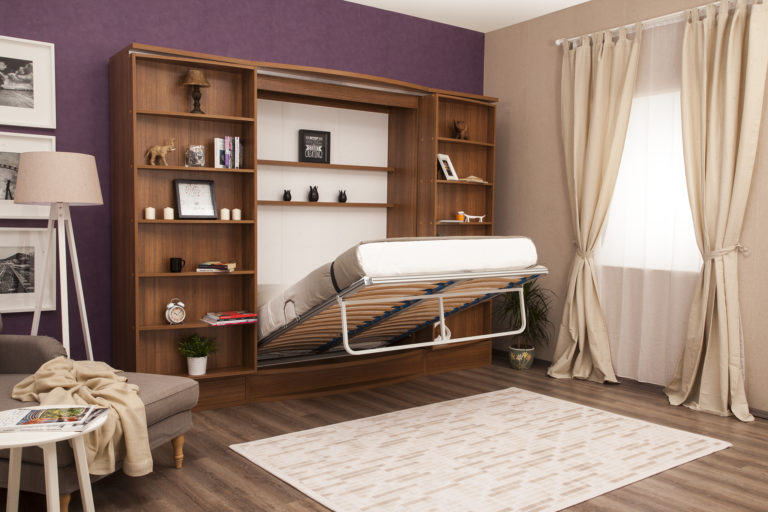 Make The Most Of Your Home With Hideaway Beds
From home-offices to student rooms to studio apartments, Hideaway Beds have been helping people get the most out of their living space since 1997.
When space is at a premium, the use of beds that fold up to maximise living areas is a no brainer. And with more and more people now opting to work from home, demand for useable, attractive multi-purpose living spaces has never been greater.
Hideaway Beds is a market leader in designing cutting edge and cost-effective living solutions to suit homes of all kinds. Hideaway Beds provides ingenious and innovative furnishings which help you make the most of the space in your home. Our unique wall bed designs look fantastic and they're also incredibly comfortable – whether you just want a simple single or double bed option or a lavish, completely integrated living system featuring – for example – a double bed, bookcase and wardrobe.
Beds take up a lot of space – but wall beds enable you to enjoy your living space all day while providing a useful extra bed just when you need it.
The Diva Double Saloon, for example, is ideal for furnishing studio apartments. It's also a great solution when you want to host overnight visits from friends and family with the minimum of fuss and hassle. This is a solution which saves you considerable space – with a hidden double bed, a TV unit, shelves for decoration or books and an extra wardrobe module. During the day, it's all hidden away behind the two side-ways sliding shelves.
Many of our products are available for dispatch the very next day and all our products are built to the highest standards – robust, comfortable and designed to last. Wall bed mechanisms operate using gas-springs so they're also very easy to use and only open up when you need them to!
Products Featured:
Whatever your needs, Hideaway Beds has a solution ¬– so call us today to find out more about how you can get the most out of your home.