Maximising Your Space with Fold-Down Beds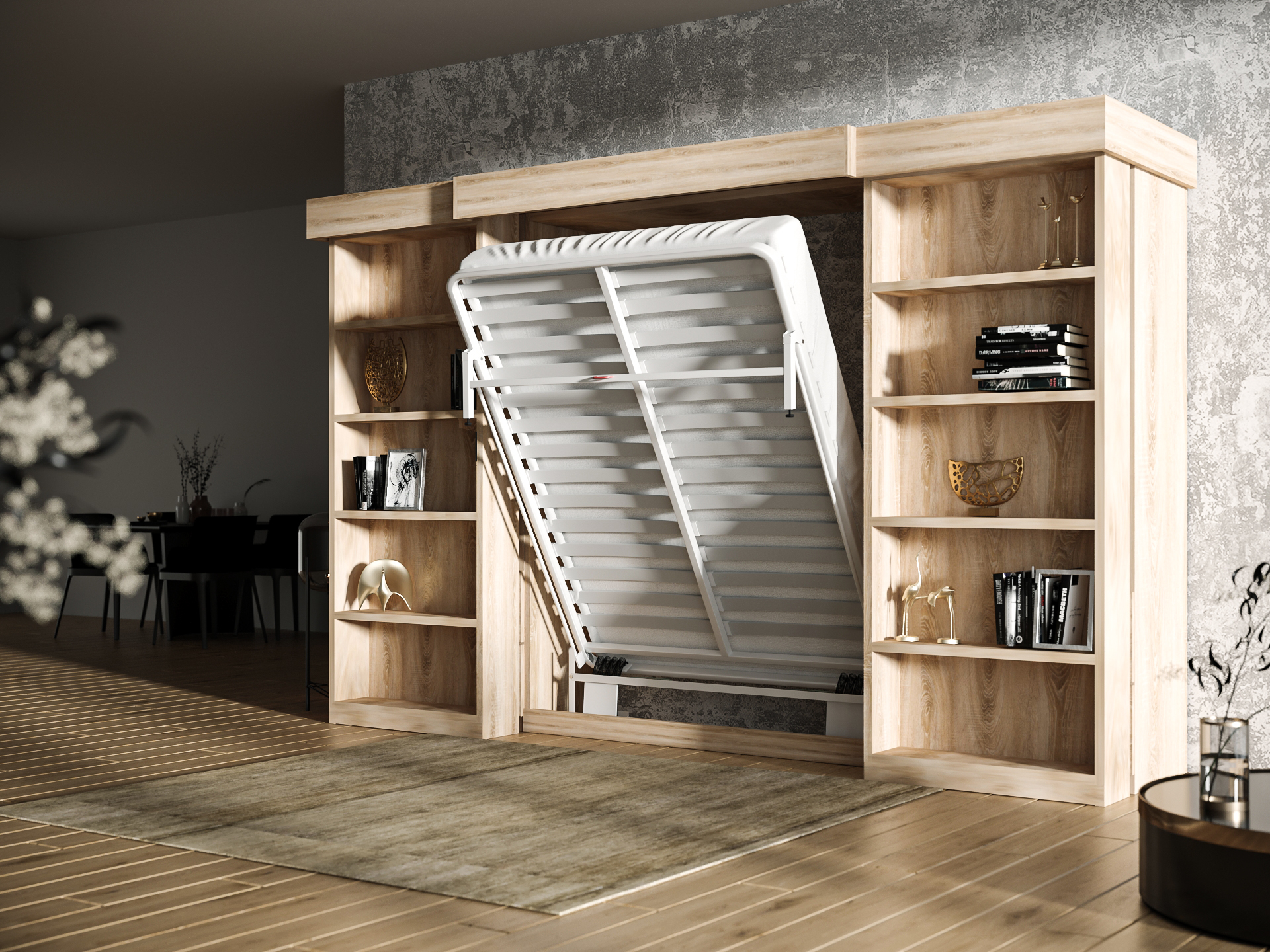 In today's increasingly compact living environments, maximizing space is not just a trend but a necessity. Whether you reside in a cosy apartment or want to make the most of a spare room, the need for functional and flexible furniture is greater than ever. That's where fold-down beds, come into play. 
Being one of Europe's premier wall bed specialists, Hideaway Beds has been at the forefront of space-saving solutions since 1993, offering a wide range of stylish and quality wall beds in the UK and Ireland.
So why do we recommend folding beds?
Why Choose Fold-Down Beds from Hideaway Beds?
When it comes to choosing the perfect space-saving solution for your home, Hideaway Beds stands as the go-to option. With years of experience, quality craftsmanship, and innovative designs, here's why you should consider our fold-down beds:
Innovative Space-Saving Furniture
Since 1993, Hideaway Beds has been supplying specialist space-saving wall beds to thousands of satisfied customers in the UK and Ireland. These wall beds have transformed lives, allowing individuals to make the most of their living spaces. It's more than a bed; it's a lifestyle revolution!
Elegant and Practical Designs
Many of us have spare rooms not being used. Why not turn it into a practical space such as a home office or study, while still offering practicality for overnight visitors? With many people working from home, a dual-purpose room with a versatile wall bed is a great way of increasing your property value and its letting potential.
Fold-Down Beds: The Perfect Solution for Modern Living
The art of transforming space requires creativity, functionality, and a touch of elegance. Fold-down beds from Hideaway Beds offer just that. Let's explore the benefits:
Transform Your Spare Room
Your spare room might be a space filled with potential. With the installation of a wall bed, that seldom-used room can turn into a home office, a study, or even a gym. You can enjoy the space for everyday activities and still offer a comfortable place for overnight guests.
It's a smart way to enhance the practicality of your living space without the need for a complete overhaul.
Accommodate Your Existing Mattress
Worried about the bed size or the comfort of your existing mattress? Fear not! Fold-down beds from Hideaway Beds are designed to accommodate your existing mattress, ensuring that you or your guests have a restful sleep.
The wall beds are crafted to fit various bed sizes, allowing you to utilize what you already have, aligning with your budget and quality needs.
Easy to Use and Maintain
Ease and comfort go hand in hand with Hideaway Beds' fold-down options. Not only are these wall beds easy to install, but they're also simple to fold away when not in use. The design is intuitive, enabling even a child to operate it. Plus, the quality construction ensures that maintenance is minimal, making it a stress-free purchase that adds value to your home.
Wall Bed: A Stylish Space-Saving Solution
Hideaway Beds goes beyond functionality to bring you stylish wall beds that redefine your living spaces. Here's how:
Enhance Your Home's Aesthetic
Wall beds are not just functional; they're a style statement. Hideaway Beds offers a range of designs that seamlessly blend with your existing décor. The sleek and modern appearance of the wall bed turns a simple piece of furniture into an eye-catching centrepiece. It's a perfect blend of utility and aesthetics that suits the UK's diverse housing styles.
Dual-Purpose Rooms: The New Trend
With more people working from home, dual-purpose rooms are becoming essential. A wall bed can quickly turn a home office into a guest room, ensuring that you don't have to sacrifice functionality for comfort. The easy transformation allows you to make the most of your space, increasing your property's value and letting potential.
Quality That Fits Your Budget
Investing in a quality pull-down bed doesn't have to break the bank. Hideaway Beds offer wall beds that are not just aesthetically pleasing but also made with top-notch materials. Whether you are on a tight budget or looking to splurge, there's an option to suit your financial needs. Make a purchase that combines style, comfort, and quality without compromising on any aspect.
Unfold the Future with Hideaway Beds
The era of bulky, space-consuming furniture is behind us. Welcome the future with Hideaway Beds, where every fold-down bed is a symbol of innovation, comfort, and elegance. Why settle for ordinary when you can embrace the extraordinary Murphy beds?
Explore the world of Hideaway Beds today and make a purchase that not only meets but exceeds your expectations. Discover how Hideaway Beds can redefine your living space and let us guide you towards a more flexible and comfortable home. Your dream dwelling is just a click away!