Description
The Diva Double Table Bed allows you to easily transform your sleeping area to a working study and vice versa.
With optional wardrobes as side modules, you can have a large bedroom furniture set at a space where normally only a conventional bed would fit in.
Leave all of your belongings on the desk during the opening and closing of the bed.
The unique wall bed mechanism keeps the desk in a parallel position to the floor and you can go to sleep without touching the items on your desk.
The mattress base is supported by an aluminium frame and slats for extra comfort and increasing the durability.
The bed can also be left made up using the bedding strap provided, so unlike a sofa bed you will not need to make the bed up after each sleep.
The folding desk bed mechanism, designed and produced in Europe by Multimo, has a minimum 10 years of lifetime and this period may extend much longer depending on a careful usage.
Ever-shrinking property sizes increases our need for smart space saving solutions. It can often be difficult to choose the right furniture when considering furnishing a studio, small bedroom or a one bedroom property. As with all furniture, when beds and wardrobes are tightly packed into a small room, it eliminates the amount of free space you have for living, however the Diva Double Table Bed provides you with real comfort, but also gives you back your valuable floor space when the bed is not in use.
Working from home has never been so popular and this well designed solution gives you the option of both a work station and foldaway bed.
All Multimo products are designed for daily use and can be used as both a primary or guest bed.
We can recommend our popular Freshtec & Orthosoft mattresses in a discounted bundle when purchased with the bed.
Safety Notice
This product requires wall mounting, please read the assembly guide thoroughly before attempting installation
Product Configurator
You can easily experiment and create smart bedroom designs with the "Multimo Product Configurator". You can run it on your PC, tablet or smartphone.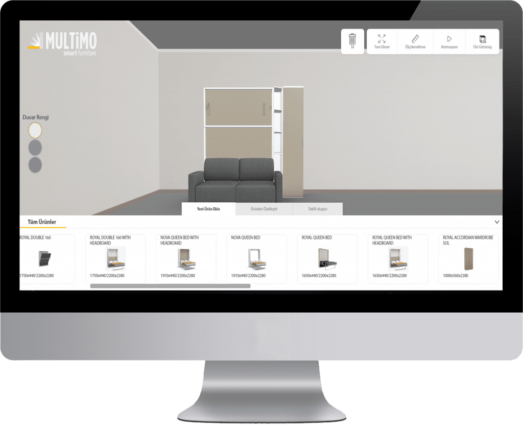 Dimensions:
Diva Double Table has 152cm width, 208cm height, 44 cm bed-closed depth and 211cm bed-open depth.
The desk depth is 60cm.
Mattress sizes: Width 140cm , Length 190cm, Height 18cm.
Delivery Lead Time
Most complete systems are in stock. Mainland UK delivery times - please allow up to 4-6 weeks. Fast UK delivery may be arranged dependent on location - contact us for more details. Whilst complete wall bed furniture systems may be in stock and available, some are manufactured to order and we aim to deliver within 12-16 weeks for delivery.. Please bear in mind that that supply chain issues beyond our control may impact lead times, but we continue to do our best to accommodate requirements. If your order is urgent or you have any questions regarding lead times please contact us before placing the order, so we can provide a realistic timescale for delivery.