Description
The "Royal Collection" wall bed system offers both an elegant living space and a functional bedroom with a king size bed, spacious wardrobe, comfortable sofa and the option of additional storage, all-in-one, in just 8 square meters.
Grab your favourite book from the Royal's convenient bookcase, then relax and enjoy on the Royal's comfortable sofa. When it's bedtime, easily convert your seating into a comfortable and spacious king size bed thanks to Multimo's patented and secure mechanism.
Modular Design to Fit Your Needs
The modular structure helps to create different variants as double or triple sofas with ottoman, wide or smaller wardrobes and bookcases, all combined to suit your needs and tastes. The double wardrobe doors offer great functionality and ease of use, together with a sophisticated appearance. Create a wardrobe as large as you need by combining different options of single and double door wardrobes.
You can create different furniture sets with modules including wardrobe, sofas and bookcase as shown in photos.
We appreciate space can be very limited in some rooms and the full set does not have to be purchased.
You can make different furniture sets with modules including wardrobe, sofas and bookcase as shown in photos.
The mattress base is supported by an aluminium frame and slats for extra comfort and increasing the durability.
The bed can also be left made up using the bedding strap provided, so unlike a sofa bed you will not need to make the bed up after each sleep.
All Multimo products are designed for daily use and can be used as both a primary or guest bed.
We can recommend our popular Freshtec & Orthosoft mattresses in a discounted bundle when purchased with the bed.
Long Life
Developed with Multimo's 33-year expertise, Royal Collection has 5 year mechanism warranty. 25 years old Multimo products are still working and being used in homes and offices safely.
Sofa
Full size 2 or 3 seater modular sofa.
Deep, full size seating cushions are medium-firm for lasting comfort.
2 decorative pillows in matching colour are included.
Backrest cushions are removable to accommodate wall bed in opened position.
Super lightweight and easy to put together.
Sturdy and flawless construction with the strongest materials and finishes.
Available in variety of textiles and colours.
Outstanding quality for exceptional comfort.
All components for the Royal sofa are manufactured in Europe, using the best available materials and technologies. We make sure your Royal sofa is not only comfortable but sturdy and durable. Every construction detail is carefully thought out for lifelong satisfaction.
Safety Notice
This product requires wall mounting, please read the assembly guide thoroughly before attempting installation
Product Configurator
You can easily experiment and create smart bedroom designs with the "Multimo Product Configurator". You can run it on your PC, tablet or smartphone.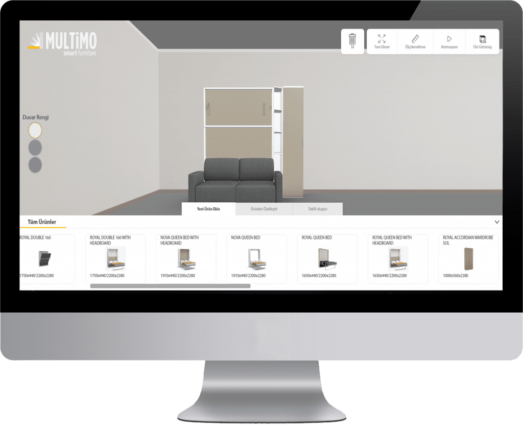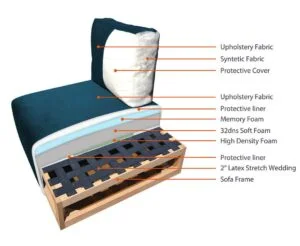 Custom Sofa
CCreate a truly functional space by combining your Royal wall bed with a full size sofa. Now you don't have to choose between a bed or a couch, you can have both and still have plenty of open space. The sofa is designed to be integrated with Royal king size wall bed or it can be a free standing piece as well. Multiple colour choices are available, please contact sales regarding this.
Finishes
The Royal Collection cabinetry and modular units are only currently available in white.
Dimensions:
Royal Collection Wall Bed is 165cm width, 228cm height, 44 cm bed-closed depth and 220cm bed-open depth.
Royal Sofa 2 Seater is 200cm width and 85cm depth.
Royal Sofa 3 Seater is 280.5cm and 85cm depth.
Mattress sizes: Width 150cm , Length 200cm, Height 18cm.
Modular Units
Please see below for the various compatible modular units you can purchase to make up your Royal Collection:
https://www.wallbeds.co.uk/product-category/modular-storage/
Please note: Headboard is sold separately / Handles are no longer provided.
Delivery Lead Time
Most complete systems are in stock. Mainland UK delivery times - please allow up to 4-6 weeks. Fast UK delivery may be arranged dependent on location - contact us for more details. Whilst complete wall bed furniture systems may be in stock and available, some are manufactured to order and we aim to deliver within 12-16 weeks for delivery.. Please bear in mind that that supply chain issues beyond our control may impact lead times, but we continue to do our best to accommodate requirements. If your order is urgent or you have any questions regarding lead times please contact us before placing the order, so we can provide a realistic timescale for delivery.